« Back
Tips For A Healthy Heart + Mind During The Holidays
As the holidays are around the corner I wanted to talk today a bit about practical ways to keep our minds and hearts happy and lifted during this holiday season!
We all know this time of year can be magical with the crisp air and gathering with our special people. However, it can also bring a mix of emotions out too. The Christmas season can be nostalgic, stressful, joyous, painful, a time to reflect, exciting, or maybe you're feeling a mix of these at different times of the season. 
Let's take a few minutes together to be inspired by some ideas to keep your cup filled up so you can pour out with joy where needed this holiday season.  
Grab a warm cup of coffee, a snack, a blanket, and snuggle up while we talk about keeping our mind and hearts happy this season!

1.

Keep a Gratitude Journal
I know we hear this word often, "gratitude," especially around this time of year. Sometimes when things aren't always "picture perfect" in our worlds, our minds can tend to start seeing everything we don't have. I know in really hard seasons of my life this is what happened and so something I started to do, and I often pull out on the harder days is a gratitude journal.
It may sound silly but I promise – it's powerful! I would start listing out in bullet points each thing I'm grateful for and soon enough the list would be so big I would realize, I may not have everything going right right now, but I truly have so much to be thankful for! It's always an immediate heart shift for me, and no matter the season of life you find yourself in,  I think you'll really enjoy it too. 


2.

Give Give Give
This may sound obvious but I'm not meaning necessarily in Christmas presents! There has been a lot of research around mental health and the positive benefits to giving! We can give our time, our resources, an encouraging word, etc.
Something that undoubtedly makes a heart happier is giving! Whether that's surprising someone special with a Cashmere Hair gift card or a new set of extensions and watching their face light up, or if it's volunteering your time at a shelter near by, all acts of giving are significant and special.

Can you think of a time you were having a bad day and someone said an encouraging word to you that really lifted your spirits? I know I can. Our words are so powerful and sometimes when we feel down, it can actually really lift our own hearts to send a message to someone else to encourage them.
Often times when I feel down I want to head towards isolation, but studies show we are actually so much healthier when we are in a community! Of course there are times we need space (and we'll talk about this in a moment) but overall it's so healthy for our hearts and minds to be actively involved in community whether that's family, or friends, and just connecting with people face to face!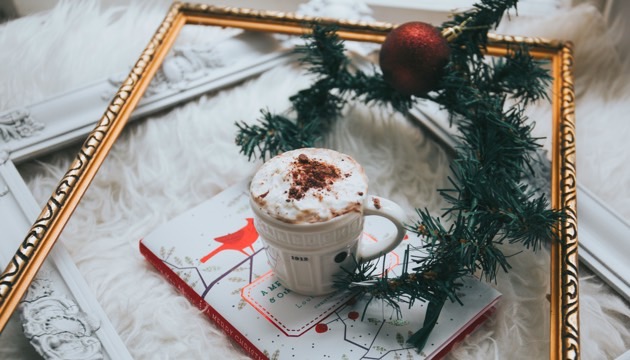 3.

Rest & Reset
Within the natural rythym of holiday hustle and bustle, I would encourage you to carve out time in your schedule to simply rest and reset. Recently I've had the realization that between responsibilities of wearing many hats such as motherhood, being a wife and being a work from home parent, I've found that I had stopped doing things that simply made me happy.
I started to ponder what really set my heart on fire and made me feel alive and I have been doing more of those things and being intentional with keeping those things a priority. What a difference it's made! I feel that my capacity to wear the many hats and balancing my time has come easier as I've been intentional with creating space for myself to do things I really enjoy.

This can be simple things such as reading, doing something creative in the artistic world like painting, getting outside for walks without your phone, horse back riding, you name it!


4.

Plan & Prepare 
Normally this time of year requires more from us, am I right? More time shopping, preparing meals, getting the house in order, etc. While these are all amazing opportunities to connect with others, it can be exhausting and stressful especially when we are unprepared!
A practical tip I try to do is look at my month, week and days ahead of time, so I have a grip on how my month is flowing. If my week is getting too booked up, and if I have anything the next day I need to prepare for. When I'm looking ahead it allows me time to say "no" to things I need to cut out and say "yes" to things I really care about.
When you prepare as much as you can ahead of time the days seem to go smoother and you can often avoid future issues because you've already found the solution to it! For example, if you're planning a dinner party, you could decorate or get the table set the day before, and then also look over your menu and do your shopping the day before and get everything chopped and ready to go. That way if you realize you're missing an important ingredient or you have one less table setting than needed, you'll have plenty of time to get that done instead of if you wait till just a few hours before and then are scrambling to get everything ready for your guests.
Planning ahead and looking over your calendar on a regular basis will help eliminate the last minute stress and allow you to be fully present and enjoy your time.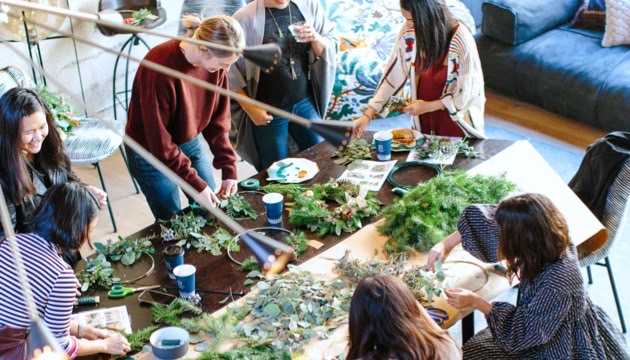 I sure hope this list of tips helped inspire you in one way or the other to be intentional with taking care of you this holiday season. Taking time to fill up your cup, and making our mind health a priority is vital to getting the absolute most out of this sweet Christmas season!