« Back
Spring Hairstyles And Trends You Will Love!
When I think of April I think of spring. It has always been my favorite season for as long as I can remember.  The weather is amazing and the outfit choices are endless. I love this time of year because the beautiful weather  makes it more exciting to dress up and do my hair.
I feel that with each new season there is an unspoken feeling of change especially in the spring. The cold weather of winter makes us a bit lazy especially when it comes to our hair. That moment when I leave the shower and make it to the closet I've already frozen to death. I can't imagine spending anymore time in the bathroom to style my hair. A lot of women let their hair grow long in the winter so they can have a fresh new haircut or hairstyle for spring and summer.
We are always looking at celebrities and social media influencers for the next hair trend we can try. You would think hairstylists would run out of hair ideas since on average women change their hair 150 times in a lifetime. It is a lot but that includes all of the times women experience with hair color. To give you some inspiration for your next hair color or style I have gathered some of my favorite looks for spring.
Brunettes Can Have Fun Too
View this post on Instagram
All in one and  more. This fresh cut and baby highlights hairstyle can elevate any brunette to the next level. If you are not ready to go blonde yet, by adding a few highlights it can give you a feeling of a fresh start without changing too much.
View this post on Instagram
I've had so many moments when i wanted to go blonde but never had the courage to do so because I have fine hair and have been afraid it would damage my hair. So  instead I wear a lighter shade of clip-in hair extensions and instantly have that sun kissed look.
Bangin' Beauty
View this post on Instagram

Bangs can be such a statement if done right. There is fear associated with bangs: Will they look good on me? Aren't they high maintanance? Will they give me acne? I've had bangs before and loved them. Make sure you choose a good hairstylist to cut them. If you have a good skin care routine and keep your skin clean then acne shouldn't be a problem. They are very easy to style. All you need is a blow dryer and a round brush. If you absolutely hate them you can always pin them up until your hair grows longer. Our hair grows pretty fast, about half an inch every month.
View this post on Instagram
From curly to swept aside bangs there are so many options you could choose from to be the right fit for the shape of your face.
The Blunt Bob
View this post on Instagram
A classic among all hairstyles, the blunt bob is not going anywhere in 2019. It is the perfect hairstyle to give you the change you have been craving all winter. It has such a feminine vibe to it which can make us look much younger but it can also be fierce and edgy.
View this post on Instagram
Another reason I love spring is because of Easter. I didn't grow up celebrating it but since becoming a mom it's become one of my favorite holidays. Whether you'll be egg-hunting, eating candy or gathering with family and friends over Easter weekend the last thing you want is to stress over your hair.  Don't worry! I have got you covered with some easy hairstyle tutorials that will be perfect for this holiday and also give you some hairstyle inspiration for the spring season.
Fishtail Braid Crown
This beautiful fishtail braid crown hairstyle is perfect for spring. Not only easy to create but it complements any outfit. Who needs a headband when you can DIY using your own hair. When you wrap your braid around your head make sure you secure it safely with bobby pins hiding the hair that is sticking out.
WHAT YOU WILL NEED:
Pink Braid Crown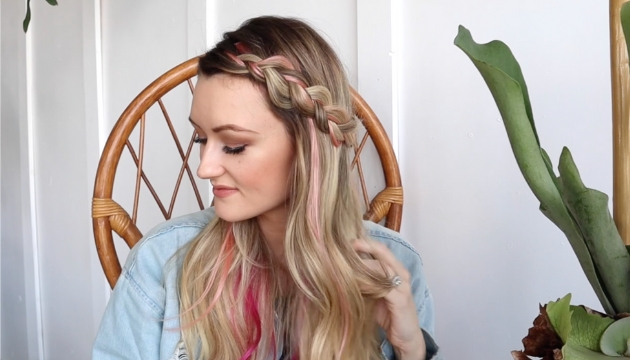 Ever get bored of your hair? Same color, same style, same length every single day. How fun would it be If you could switch up your hair just for one day? For this tutorial the model is using Cashmere Hair Clip In Extensions in the shades Pale Ash Blonde and Peek-A-Boo Pink.
WHAT YOU WILL NEED:
I hope you enjoyed these hair tutorials and hope they will help you to get out of your comfort zone and try something new. Please leave any questions or comment you may have have down below!