« Back
How To Wear The One Piece Volumizer Clip In Hair Extension
We have put our hearts and souls at designing and creating our most anticipated product, the One Piece Volumizer Hair Extension. After gathering all of your feedback I think we have created a product that you will absolutely love. This product is extremely simple to apply and it gives your hair instant length and volume.
What is the One Piece Volumizer Extension?
This is our NEW & IMPROVED re-designed Remy Clip-in One Piece Volumizer extension. It consists of 1 weft that can easily be clipped on in seconds and worn all day with comfort. This new design allows you to add length & fullness as a quick easy solution, making your morning hair routine a snap. This clip-in One Piece Volumizer is the easiest way to add volume and length to your hair without the struggle. It is similar to the halo design, but instead of an uncomfortable and unstable string that goes over your head, the One Piece can be clipped onto the back of your head. This design keeps your extension secure, discreet, and comfortable.
The Design
1 Total Piece- One(1) 8″ wide weft with 6 clips
1 Tester Piece: 1 inch wide weft with 1 clip
The new design consists of several wefts sewn into one lace piece, with 6 clips to create balance and a comfortable grip. The hair is +AAA Superior Grade human Remy hair that is full from top to bottom. The One Piece comes complete with metal clips attached to the weft with silicone tubing for a secure grip when attached to your natural hair. It easily blends with your hair and can be styled, curled, and customized just like your real hair to achieve your desired look.
Dimensions
Length: 20″ inches long
Width at top: Approx. 8″ wide
Weight: 90 Grams
Who is it for?
Because of it's design, it is best for medium to long hair lengths. Longer hair is required to blend and avoid the hair extension "seam" where there is an obvious difference between your hair and the extensions. Your hair should be longer than your shoulders with regular or thin ends with layers. Blunt haircuts will not blend naturally with this hair extension option.
Our One Piece hair extension comes in all the shades as our clip in hair extensions. The video below shows the Beverly Hills Brunette which one of our most popular shades.
More information
The One Piece hair extension does not wrap completely around your head and does not add hair to the sides of your head. If you prefer to wear hair extensions that fill hair in on the sides/front of your head, please use our regular (7 piece) extensions. You can also use a few tracks from our regular clip in sets to fill in more hair and to add some tracks to the side of your head. This is designed to add volume & length to just the back of your head, and measures approximately 8″ wide.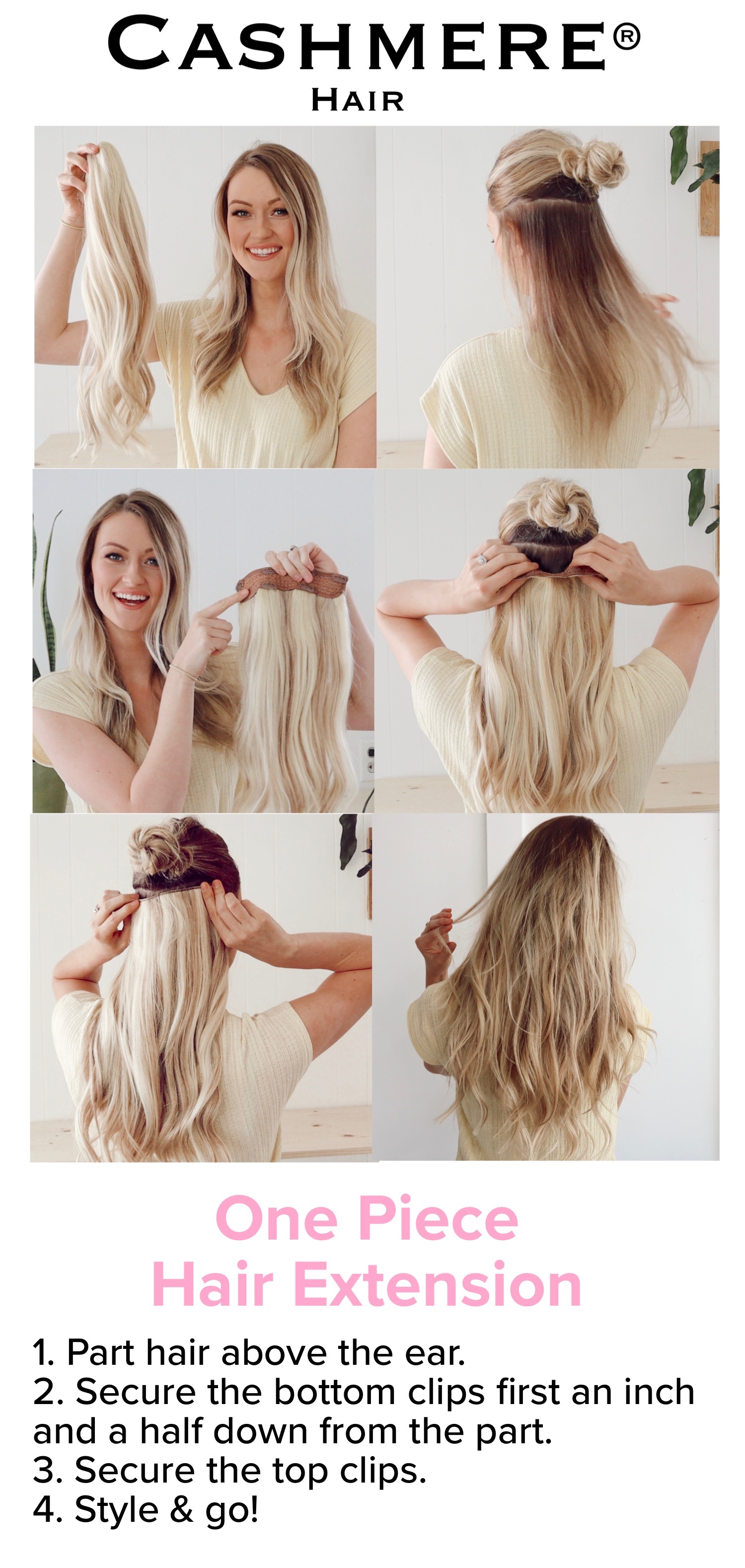 If you need help with choosing the right shade for you please email our customer service at info@cashmerehairextensions.com by sending a few photos of your most recent hail color. The video below showcases all of our shades of our One Piece Extensions.
I hope you find this blog helpful. To see before and after photos of our extensions follow us on Instagram @cashmere_hair. Leave a comment below If you have any questions or feed back for us. We really hope this new product makes your life easier and more beautiful.