« Back
Holiday Hairstyles Roundup
The holidays are quickly approaching and I couldn't be more thrilled! My heart always skips a beat once it gets to this time of year with all the cozy feels. A hot cup of coffee and maybe one or two many holiday treats and I'm a happy girl.  I feel like once Halloween passes it's game-on from there! This season is one that brings so many emotions and so much nostalgia. In recent years I have been reminded to slow down and savor each moment this season brings.
We had a year where the hustle and bustle was real and we were rushing to get our Christmas shopping done the week of Christmas. If I'm honest it was quite the feat and very stressful. Since then, we've tried to be more diligent in getting it done sooner. I always love thinking of gifts to buy or make for loved ones, big and small. I find when I give myself more time to prepare I am able to really think about the gifts we give and make them more thoughtful which I really enjoy.
So as we prepare for Thanksgiving next week, and Christmas (or whichever holiday you celebrate) soon thereafter, I've rounded up some holiday hairstyle tutorials for each and every special or casual event happening this year. Whether you are in need of finding an elegant style, a simple classic or a more boho holiday style, there will be something here for you! I hope this will also inspire and encourage you to slow down, and take just a few extra minutes to love on yourself and feel your best this holiday season.
Big Voluminous Curls
One of my favorite holiday classics.  You really can't go wrong with this hairstyle, it is gorgeous on anyone and everyone! I always feel so feminine with big bouncy curls and love how much volume and length my Cashmere hair extensions give me.
All you'll need for this style is a 1-1.25 inch curling iron. If you have shorter hair I'd recommend going for the 1 inch curling iron, and longer hair you could use either one!
Did you ladies see, Cashmere launched their 12″ extensions?!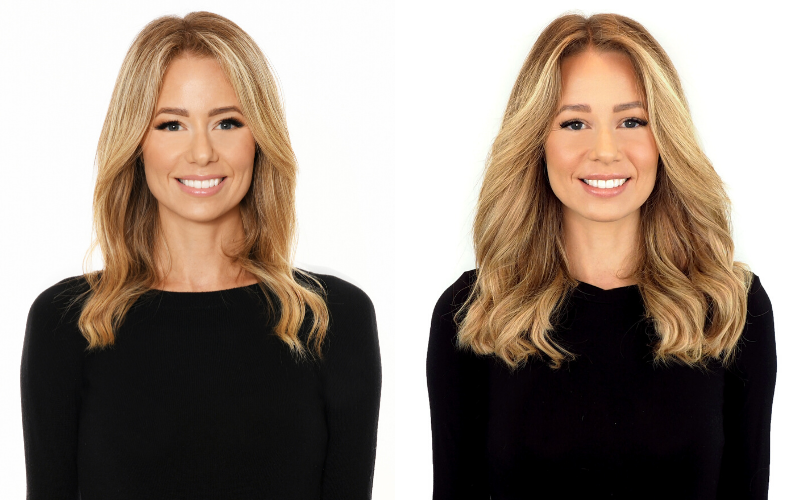 This is a dream and amazing for those gals with short hair who are wanting to add just a bit of length without having to order very long hair and cutting it to suit your needs. You could use these extensions as fillers, to give your natural hair more volume but keep the length. Or you can use for volume and length if you have shorter hair.
I love that Cashmere Hair has so many options on hair length. It makes it so nice when buying and customizing to your personal needs. Check out the newly launched extensions here!
Alright ladies, this show stopping beauty is just breathtaking! A voluminous dutch braid, this style is sure to turn a few heads on your next holiday party! Something I love with this hairstyle is it keeps all your hair out of your face which is especially nice preparing meals or dressing up – pair this style with a top or dress that has a more dramatic neckline, some bold statement earrings and I'd bet you'd feel like royalty! For this style I would recommend 18+ inches of Cashmere extensions to achieve the long, voluminious effect!
Next up, we have our fishtail with a mini braid overlap! This style is GORGEOUS! As you'll see from the video, even though it looks like a very advanced braid, it is actually quite simple to achieve. You'll just need to know how to do a fishtail braid and the rest is as good as done! This one is so fun to spice up your every day braid and really give your hair something special and eye catching for the holiday festivities to come!
Next up on the holiday hairstyles round up is this dutch braid bun up-do! This is one that make take some practice but would be oh so gorgeous for those holiday parties or a special night out. A dutch braid cascading into a large messy bun with a few curled pieces framing the face, beautiful! It will definitely help having your extra wefts in for volume and added thickness for this larger messy bun.
Last, we have this beautifully romantic, side swept braid. With soft curls at the bottom, this hair style is all around a classic beauty. This style is my go-to when I want my hair down, but am wanting to add a special touch. It helps to keeps hair out of your face (which I love!) while also letting the beauty of long hair shine! Paired with a bold red lip or deep burgundy, this style is one your date won't soon forget.
Well ladies, that wraps up our holiday hairstyle roundup for 2019! Let us know which style you'll be trying out and be sure to tag @cashmere_hair on Instagram so we can see and repost!