« Back
Fall Inspired Hair Accessories Under $20
Girls, let's chat hair accessories! I love a good hair accessory and I've rounded up my very favorites for you here in this post. I chose pieces that were perfect for fall, with neutral colors as well as gorgeous fall colors too. I have a feeling you'll be shocked by the prices on these pieces as well. Did I mention they were all under $20?!
Hair accessories are the perfect way to quickly add a little extra detail to your style and outfit for the day. They take seconds to put on and make such a big difference. I simply can't get enough. I love a great deal and I've found you some goodies so let's get started.
Below is an image you can pin to your Pinterest board to locate it quickly later on. Did you know we have a Pinterest page that you can follow to keep up to date with blogs as well?
We also have lots of gorgeous hair inspiration, and loads of helpful tips pinned on there so click this link  here  – just hit follow and then you'll start seeing our pins if you haven't already! Who doesn't love some Pinspiration?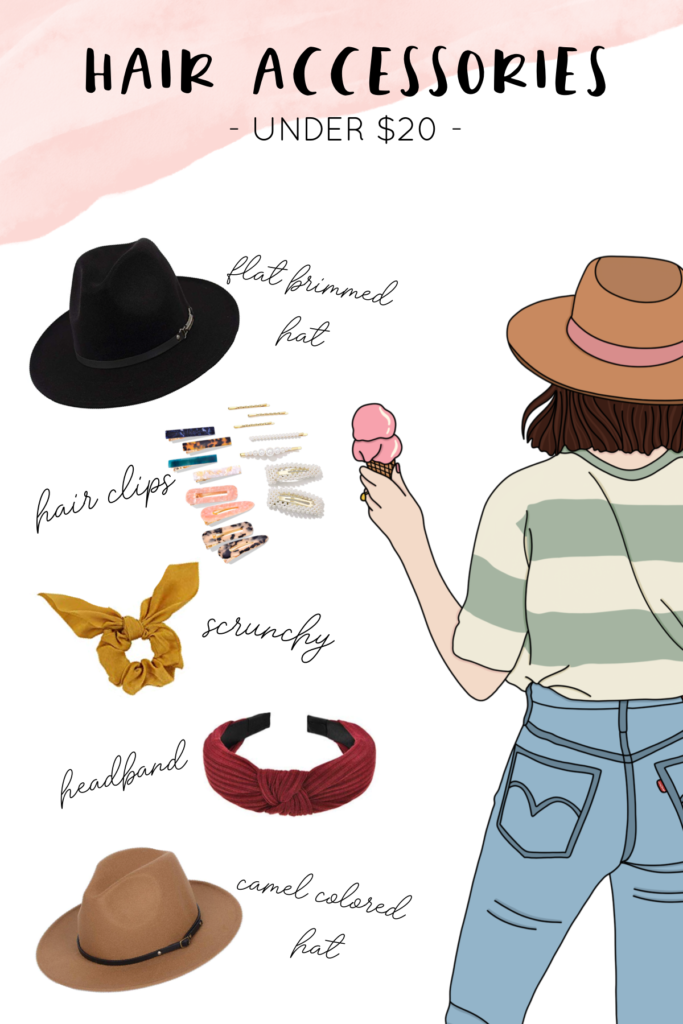 ---
This is a gorgeous hat and I love the small buckle detail it comes with as well. Hats are my go-to accessories, especially on dirty hair days. Very flattering on the face and is incredibly comfortable to wear. The buckle detail is detachable & for this hat coming in right around $15 it's a steal of a deal!
View this post on Instagram
I searched around for hair clips and this variety pack was the best I've found coming in at this price – 15 pieces for around $8 makes each clip around 50 cents. What?! Yup – I told ya I did some digging for you! I love this pack because it has so many different styles and is very versatile, something for every occasion. Simple, elegant, edgy, this pack has it all.
View this post on Instagram
Ok hair scrunchy combined with a mini hair scarf? Yes please! These are simply darling, I get so many compliments each time I wear these. Perfect to share with your daughter as well, this hair scarf is perfect for a wide range of ages! This pack of 6 has the perfect fall colors with your neutrals, mauve pink's, mustard yellow and army green – this set has my heart.
View this post on Instagram
Headbands are back and I'm loving it! These are so cute if you're timid to dip your toes into this style because the are such a soft, simple headband. I love the ribbed detail especially for fall/winter and the knot is just too cute. This pack of 10 will certainly have a color for each outfit and can be worn so many different ways with your hair up, down, straight, wavy, etc. Just adorable.
View this post on Instagram
To finish up this roundup we have the trusty, camel colored flat brimmed hat. I feel like this is a fall staple in my closet and I wear this hat often! The camel color goes with nearly anything and again, makes a statement with a few seconds of effort to put it on. Absolutely love!
View this post on Instagram
---
Shop By Photo:
So tell me, which hair accessory are you rocking this fall? Is there one that stands out or are you grabbing a few? For me personally I am loving the hats, and then my other go-to is the hair scrunchies! The clips and headbands are so fun to play with and do something out of my "norm." I still can't believe all of these pieces are under $20, especially the hats!
I hope this fall inspired, affordable hair accessory haul helps you out and gives you a few ideas on ways to spice up your closet that doesn't break the bank! Any of these items paired with your Cashmere hair is going to be without a doubt gorgeous and so fun for this fall/winter!