« Back
Cashmere Hair | The Natural Blonde Shade
Cashmere Hair Founders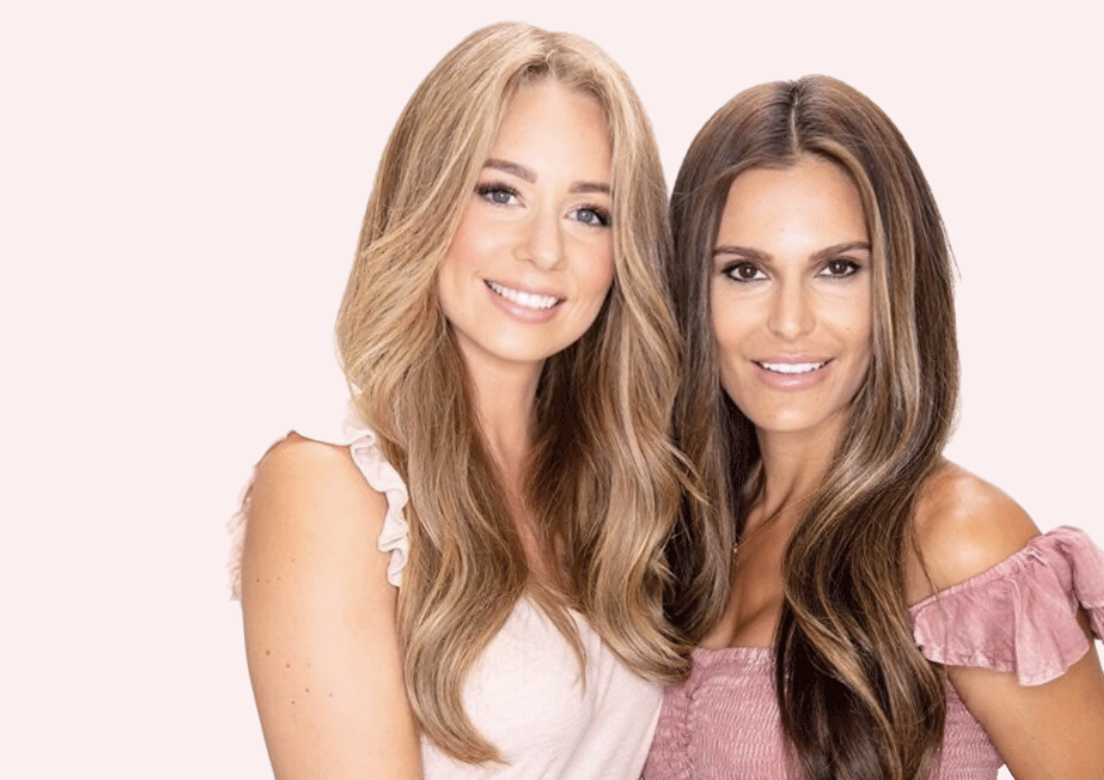 After only 5 months in business, Rachel & Melissa excitedly filmed for an episode of ABC's popular TV show SHARK TANK.  In December of 2013, their episode aired, where the women presented their brand new business to the Sharks & the world. Even though they didn't get a "deal", they went on to become a multi-million dollar business and one of today's leading hair extension companies on the market.
Rachel and Melissa had an instant connection from the first day they met, and have been like sisters ever since. With a serious passion for beauty, hair and helping other women feel gorgeous, they created their luxury clip-in hair extensions brand right in the heart of Beverly Hills.
Rachel was a model in Los Angeles and Melissa was a successful celebrity hairstylist working in several Beverly Hills high-end salons. The friends couldn't find any clip in hair extensions that were great.
Rachel began to make her own hair extensions, sewing on clips, designing the track placement that looked the most natural, even mixing colors of hair to customize it just right. Everywhere she went she got so many compliments on her hair. Which was surprising because it was just "clip-in" extensions, not her real hair. The girls began working together to find a source for the best hair. They designed an amazing range of shades to match and  Cashmere Hair was born.
With names like "Beverly Hills Brunette," "Sunset Blonde," "Starlet Brunette," & "Rodeo Drive Blonde" they offer a wide variety of the richest colors in the best selection of superior quality hair. Fit even for the pickiest celebrities, they are available worldwide to every woman to easily clip-in at home. Cashmere Hair® clip in extensions have quickly grown to be the most sought after locks around the world.
The Natural Blonde Shade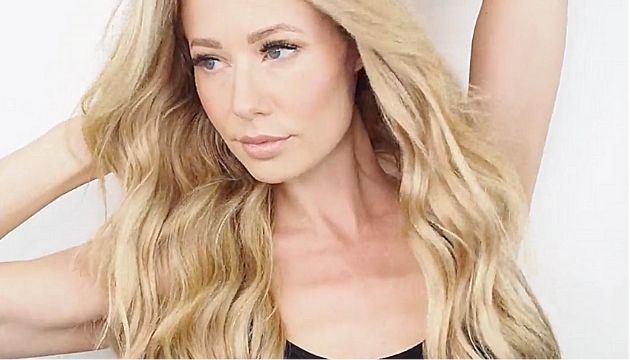 Speaking of colors, a lot of you always ask us on social media about specific color description on our various shades. I thought it would be a great idea to talk about each color from our collection on our blog.
On this blog I am going to focus on one particular shade which is the Natural Blonde shade. This shade blends well with naturally warm blonde hair. It is a medium neutral honey blonde shade with no highlights. This shade is a multi-tonal solid color.
As with all of our extensions, the Natural Blonde shade comes in three different lengths and includes 7 total wefts per set.
7 Total Pieces:
One 8 inch wide weft with 3 clips
One  7 inch wide weft with 3 clips
One 6 inch wide weft with 3 clips each
Four 3 inch wide wefts with 2 clips each
+ One TESTER PIECE: 3 inch wide weft with 2 clips
Length & Weight
16″ Inches, 160 Grams
18″ Inches, 180 Grams
20″ Inches, 200 Grams
There are a few different shades of blonde in the Cashmere Hair collection which are very similar and it's hard to tell the difference. It can be challenging distinguishing between these shades when you are trying to pick the right shade for you. The chart below is very helpful and shows the slight difference between the shades.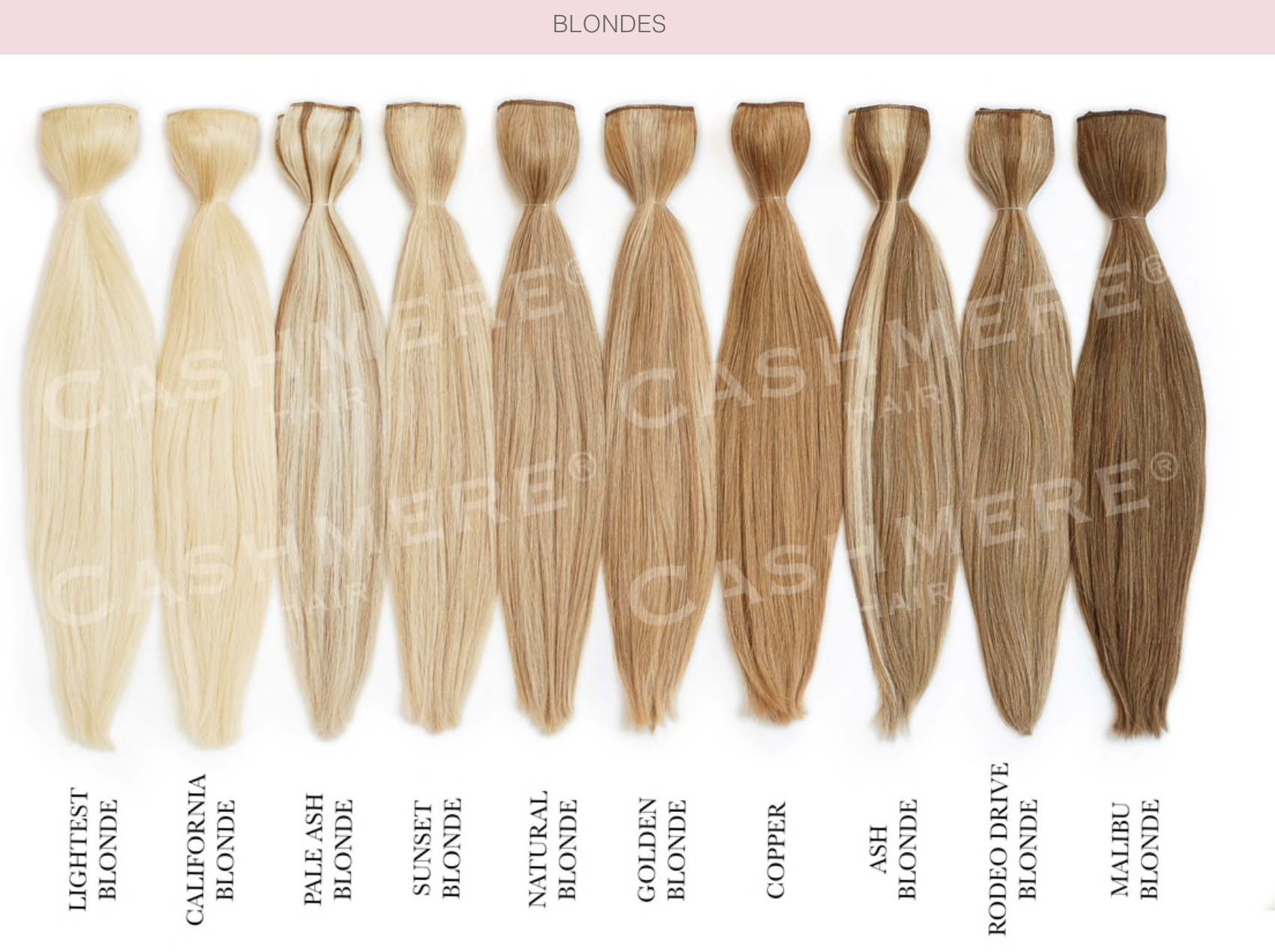 As you can see the Natural Blonde shade is much darker than the Lightest Blonde shade but very similar to the Sunset Blonde. The Sunset Blonde is a mix of the California Blonde highlights and lowlights from the Natural Blonde Shade.
I hope this blog is very helpful for you and If you need to have your color matched we provide a free color matching service. Please don't hesitate to contact us at info@cashmerehairextensions.com