« Back
Braided Ponytail Tutorial
Hey Cashmere babes – Makenna here and I'm excited to teach you one of my favorite ponytail hairstyles! All you'll need is a full set of Cashmere Hair Extensions  or the Cashmere Ponytail Extension with a small weft of clip in extensions. If you need help inserting your Cashmere ponytail, see this blog post here!
To get started, I inserted the three large wefts first. Next, I want to show you where to place your small weft to get the volume we want in this chunky braid. This is crucial and will be a game changer when doing braids around your bang area.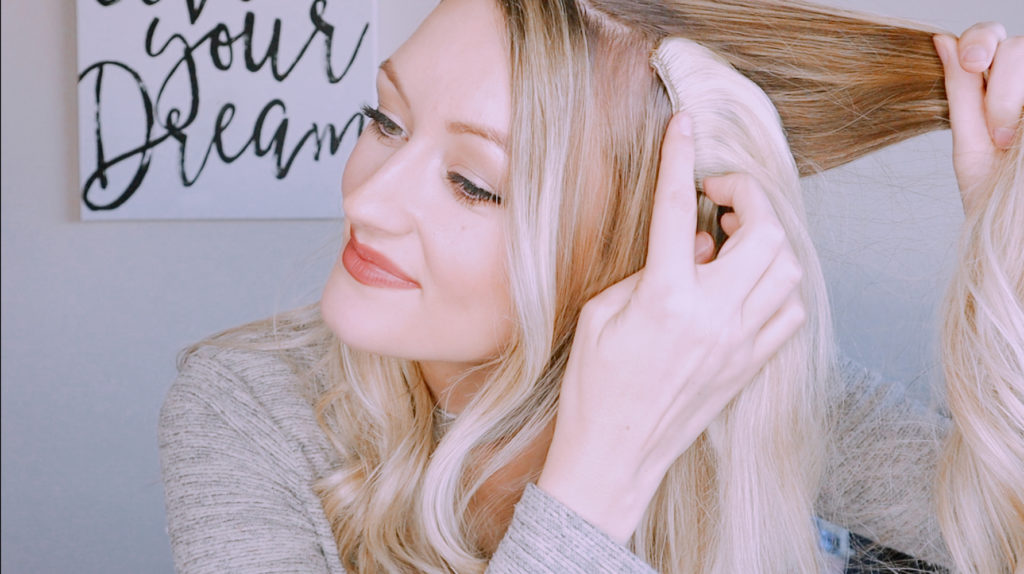 For this style – I want pieces framing my face ie. my bangs, so you'll start placing the small extensions piece about 3 inches from your hair line. Place the smaller weft going in a vertical slant, and facing the clips towards the back of your head. You want the extension hair to be going towards the back of your head – this is going to help when braiding to make it smooth and not sticking out.
The reason I place it more on a vertical slant here, is because this is the direction and placement of where I want my braid. When I first tried this hairstyle, I originally placed this weft more on a horizontal line like I typically do when placing extensions. FAIL! The extension was impossible to hide once I pulled my hair back into a ponytail.
When you place your small extension, get it along the line of where you're wanting the center of your braid to be. The extension hair is going to add so much more volume to the braid which will allow for a much chunkier and substantial braid. Dreamy!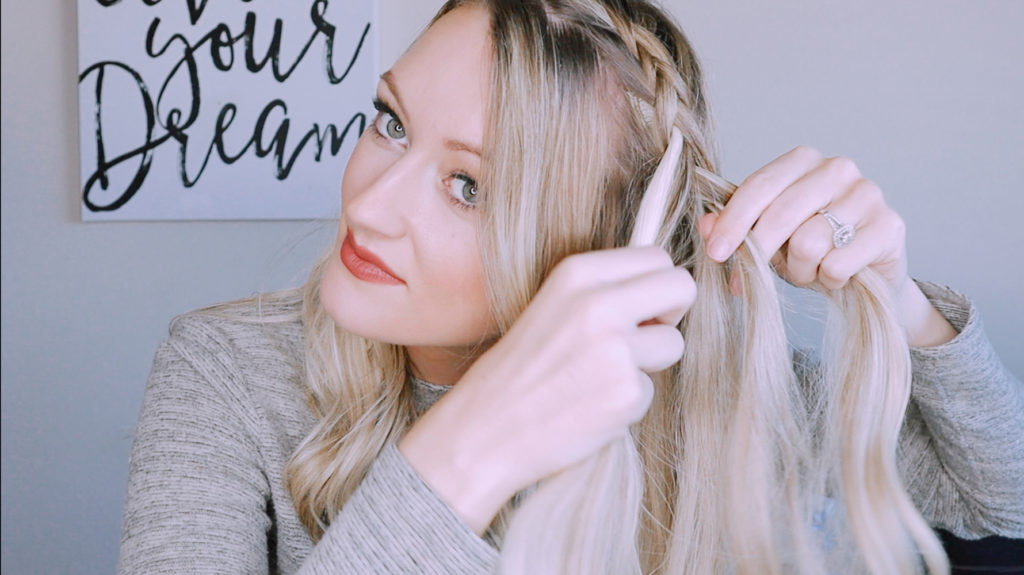 Now, once you have your extensions in place, it's time to get styling! Start the braid by grabbing a small section of hair at the top of your part. Split into three sections and start a dutch braid (braiding the pieces under each other rather than over.)
As you can see in the above picture, the extension may creep through just a bit. Don't panic! If it's laying on that vertical slant, once you pull out pieces from the braid it will be fully covered. Not to worry!
Once you reach about the ear height, you can stop adding in pieces of hair to the braid and just continue it almost all the way down. You want to make sure the braid will reach your ponytail and not stop short, so be sure to braid far enough down that it's not stopping prematurely.
A tip for this part of the style – angle your hands towards the back of your head. Whenever you are braiding you want to make sure your pulling the braid in whatever direction you're wanting it to go. (If you want the braid going straight down, keep your hands in that direction, towards the back of your head, keep your hands pulling the hair back in that direction, etc.)
This really helps to ensure there won't be any funky pieces sticking out – and if there are you'll catch it and be able to fix it rather than waiting until the entire braid is finished!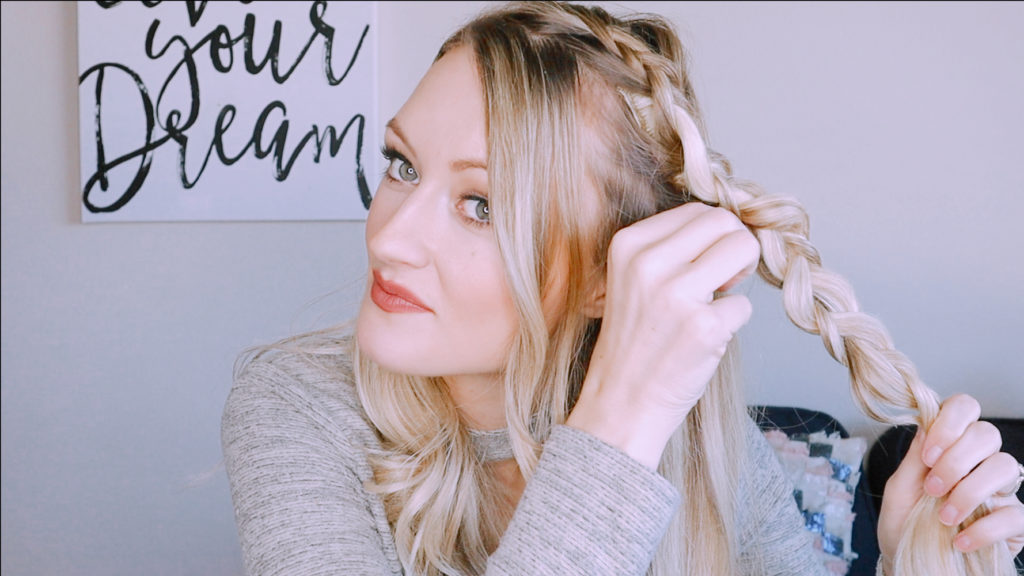 Time to start pulling the braid apart! Start gentle here and pull more and more until you reach the fullness you are wanting. Since I have extensions mixed in with my natural hair, I can pull apart this braid much more than I would be able to without extensions because the hair is much longer and therefore won't fall out with my layers when pulling at them!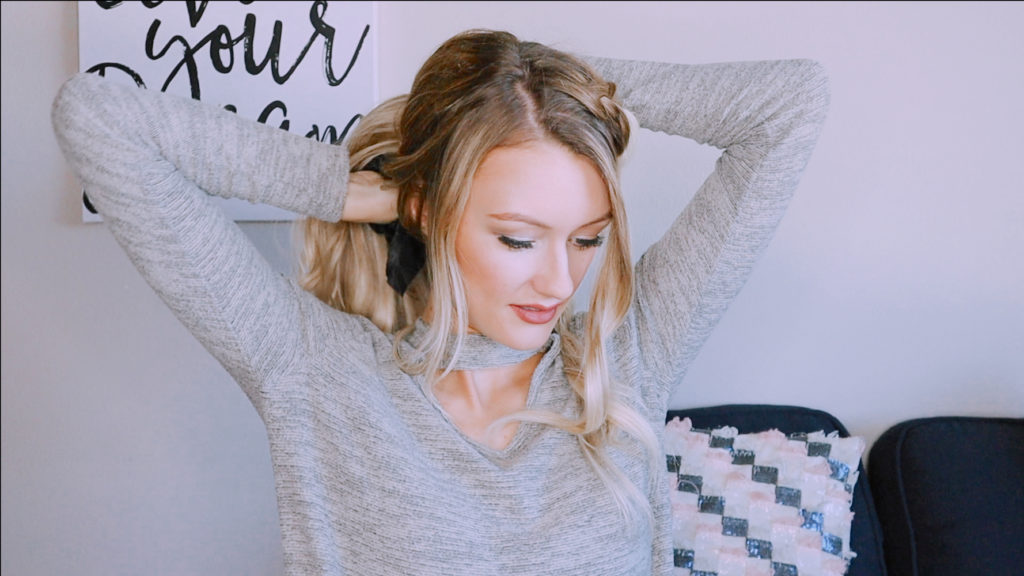 Leaving your bangs or side pieces out (if desired) pull your hair into a ponytail. Leave the braid alone until you are happy with the ponytail, and then add in the braid as the last step. I've found when doing this if I try to pull the braid in with all the rest of my hair at the same time, it starts to get a bit messy and the braid doesn't lay right and can start to sag a bit.
Once you've got your ponytail in place, pull the braid back into it and secure with a hair elastic!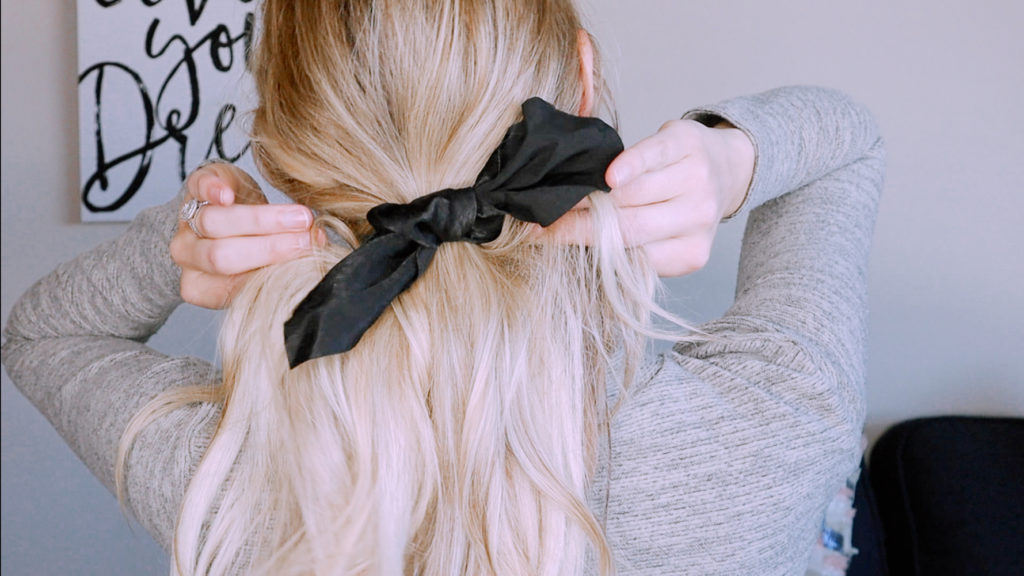 Two options for the end here – you can take a piece from the bottom of the ponytail &  wrap around the base to create a wrapped ponytail, or you can tie a hair scarf or scrunchie around it! I love these hair scrunchies I found on Amazon, they are so affordable and I've been adding them to almost every style recently!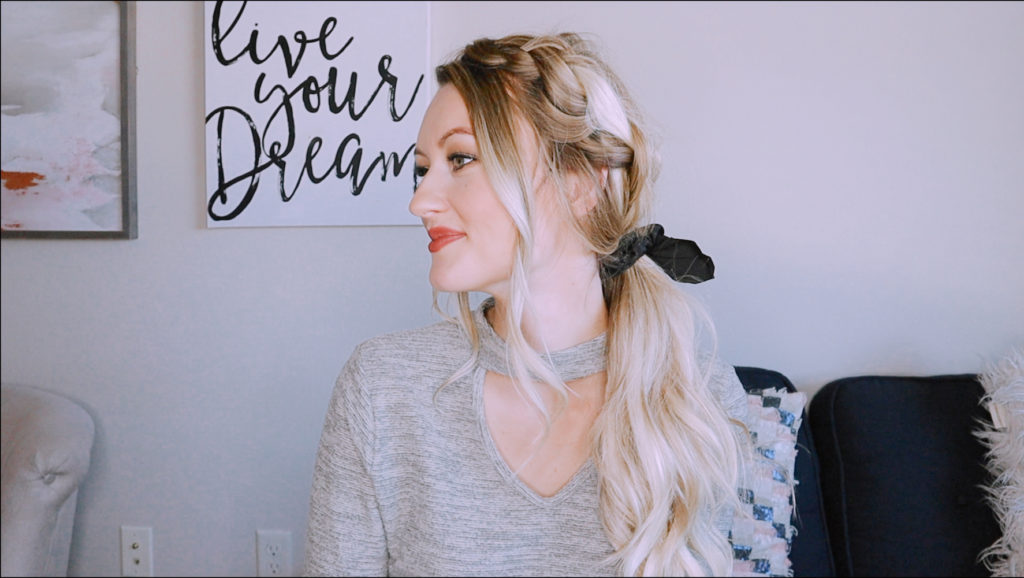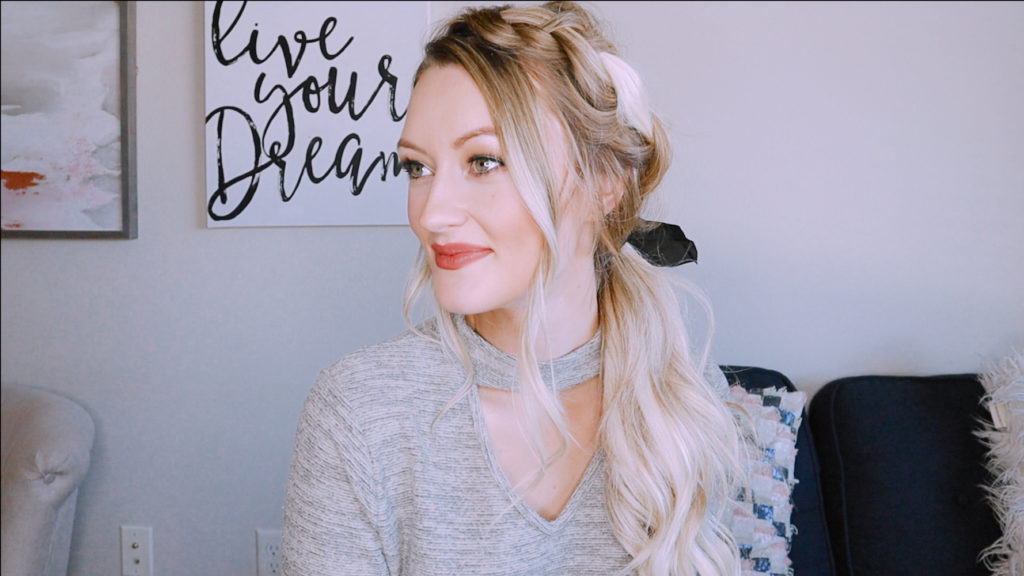 Well girls, there you have it – a gorgeous braided pony you can wear for so many different occasions! I love that my extensions give me that beautiful, voluminous pony and added thickness for my braid – total win!
Please leave a comment down below and let me know what other styles you would like to see.