« Back
All You Need To Know About The Wrap Ponytail Extension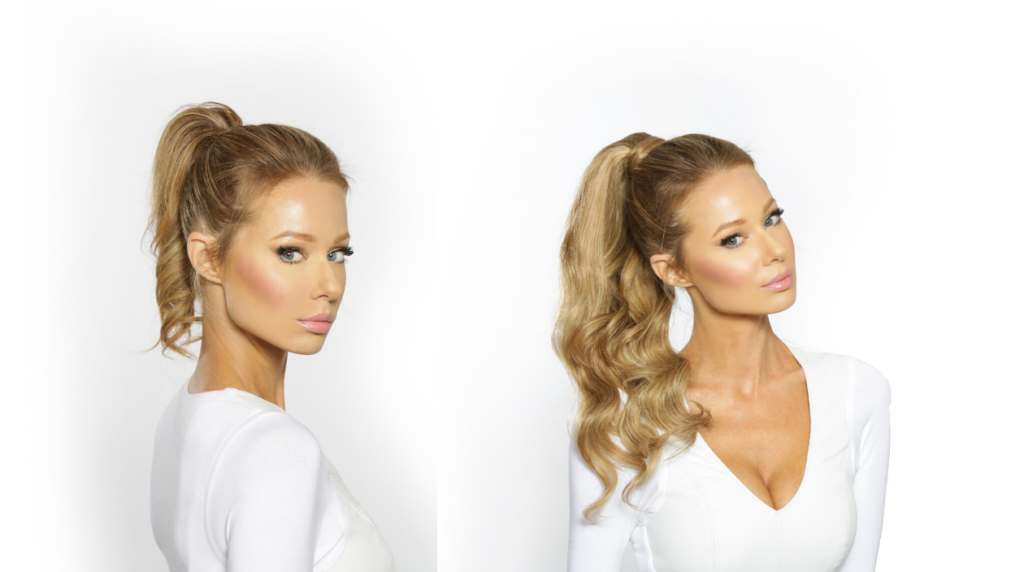 Real Human Hair Ponytail Extension VS Synthetic Hair Ponytail Extension
First let's talk about two types of hair texture that are available in today's market. You will see that even though many companies claim to sell real human hair ponytail extension that is not necessary true. Many ponytail extensions in the  market are made of synthetic fibers.  Some companies sell 100% Real Human Hair and some sell Synthetic Hair.
Real Human Hair Ponytail Extension
Remy Hair  is considered to be the finest quality of human hair. With Remy hair, the cuticles are kept intact and not stripped, the hair follicles all go in one single direction. This preserves the hair's cuticles and aligning them in a unidirectional fashion which creates extensions that are completely natural in appearance. Remy hair is collected in a method in which all hair strands stay aligned in the natural direction as it grew (i.e. holding the hair in a ponytail and cutting), top at top, and ends at ends, to maintain the natural texture pattern and cuticle direction. This reduces friction between the strands thus reducing the tangling in the hair, commonly found in non-Remy or low quality hair. Remy hair appears more healthy, soft and silky. Remy hair is only lightly processed, and undamaged.
Some companies claim to sell 100% Remy Hair, but are mixing anywhere between 10-40% Non-Remy hair into their packs. An expert in human hair can tell the difference between Remy and Non-Remy hair by touching it. It is said that Remy hair has a cool and silky feeling when you touch it. Non experts probably will not be able to tell the difference by looking at it. After 2 to 3 weeks of wear, when that hair starts to matte up you will know it's not Remy.
Synthetic Ponytail Hair Extension
Synthetic hair extensions are the opposite of Remy hair. They are not human hair. They are made of plastic fibers to mimic the feel and look of human hair. Synthetic hair is made of low-grade acrylic which is heated and divided into strands to make individual hair fibers that look jut like human hair.
This type of hair is definitely cheaper than human hair but it is also more limited. It doesn't last more than 3 months where human hair could last you up to a year with proper care. They can not be color treated, as it will cause irreparable damage. Human hair extensions can be treated just like your natural hair, which means you can curl it, straighten it and even color it.
We always want to save money and sometimes opt for the less expensive item and overtime end up spending more money. Yes synthetic hair ponytail extension is cheaper than human hair ponytail but because it doesn't last long you will have to repeatedly buy it. In the end you will end up spending more money.
The Cashmere Hair Wrap Ponytail Extension
A luxurious 100% real Remy human hair Wrap Ponytail, yes, that's right – real hair! This ponytail piece can be worn by wrapping it around your existing ponytail for fabulous fullness and length. Our ponytail comes in 21 different shades so there is a shade for everyone.
Whether you have short hair or long hair, this ponytail will either completely cover your natural hair giving you a new glamorous looking ponytail or blend perfectly with your longer hair adding the most amazing fullness.
It's designed with a comb that fits underneath or behind your ponytail holder, then wraps around the base of your own ponytail. Next, velcro the base together then wrap the small section of hair around the base to conceal the attachment, secure with a few bobby pins and you are done!
Tips And Tricks For The Perfect Pony
Create the perfect glam ponytail with the Cashmere Hair Wrap Ponytail. The Cashmere Hair Ponytail is the perfect length to instantly transform any ponytail from basic to fabulous. Use a thick ponytail tie to secure your own ponytail very tightly. Use 1-2 bobby pins to secure the wrap piece to conceal the velcro.
An important thing to remember when selecting a color is that  your hair might be a darker color when pulled up into a ponytail, so we recommend choosing the shade that matches with the darker color closer to your roots.
Product Details:
Length: 20″ Inches
Weight: Approximately 100-105 Grams
How To Insert The Cashmere Hair Wrap Ponytail
A simple way to get a fuller and longer ponytail. Makenna is wearing Cashmere Hair Wrap Ponytail in the shade Pale Ash Blonde.
We hope you enjoy reading our blog and find it helpful. For any questions or feedback please comment down below.