« Back
5 Best Holiday Hair Accessories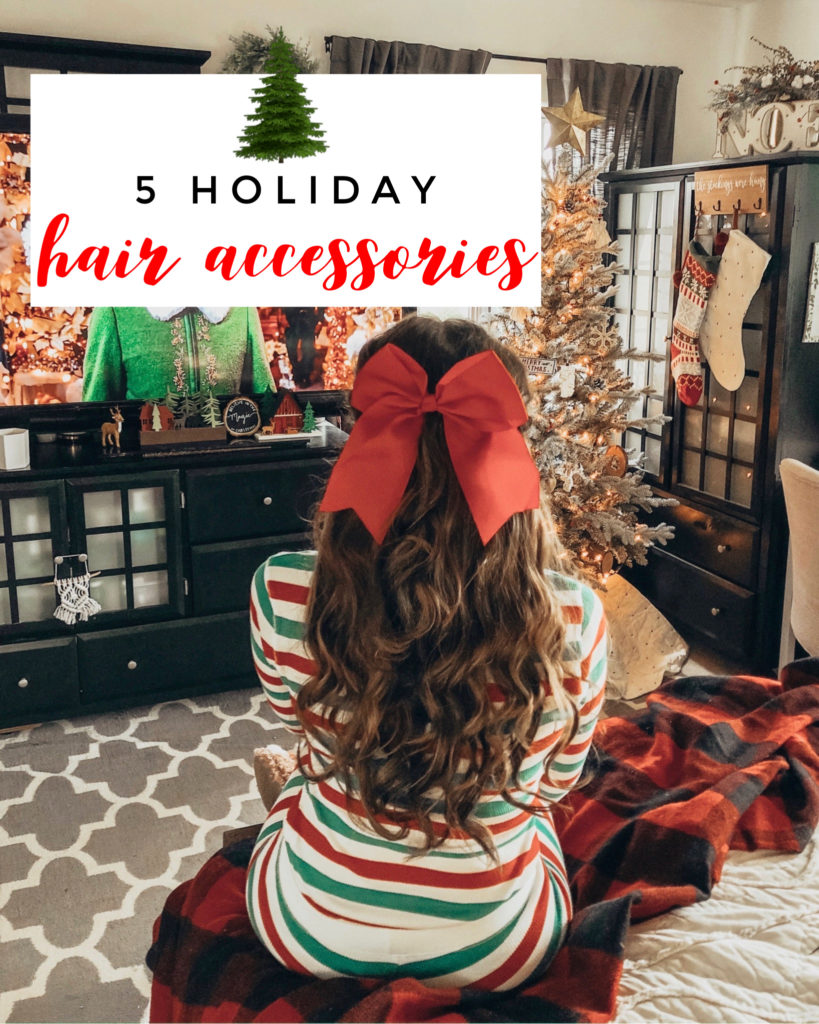 The holidays are HERE! And we're decking the halls with HAIR.
With the help of my gorgeous 20″ Bombshell Brunette Cashmere Hair Extensions I've created a styling video that details 5 holiday hair accessories you can rock (around the Christmas tree!) this season.
There's an easy look for Christmas morning and something a little more festive for clinking cocktails! So whether you're staying cozy at home this holiday season, or bouncing about the town in heels, I've got your hair accessory game covered.
I've even thrown some special accessories in that are PERFECT for a trip to any of the Disney parks during the holiday season (the absolute best time to visit!)
The majority of the hair accessory pieces are linked below after the video so you can easily shop and re-create these looks yourself. I've also detailed a few tips on how to achieve each look below. Now let's ACCESSORIZE. Enjoy!
Red Hair Bow. Cozy Beanie. Padded Headband. Red Beret. Holiday Mickey Ears.
I hope you enjoyed these super simple styles! I had a blast creating them.
The easy Christmas morning look you see in the opening of the video was created by taking two sections of hair from around the ear-line and pulling them back into a comfortable half-up ponytail. Use an actual hair tie to secure the hair. This bow is a CLIP IN and won't actually support a lot of hair, so let your hair tie do the heavy lifting and let the bow, erm…bow it all off.
The cozy beanie look is one of my absolute go-to styles for when I don't have time to style my hair or when it's a little dirty on top. I think we all could use a break from dry shampoo, as much as I love it! The pom on top of the beanie is a personal must for me. It just feels so Christmas-y!
Trick: Pull hair from the back and tuck it IN FRONT of your ears to give yourself a fuller look. It gives the illusion that you have more hair than you actually do, and in the case of wearing my Bombshell Brunette Cashmere Hair Extensions, it gives me added volume and really shows them off. This trick works for ball caps too!
The padded headband look is literally foolproof. Just pop one of those babies in and you're instantly Blair Waldorf strolling the Upper East Side at Christmas time. It's such a classy look.
For the red beret, there are multiple ways to wear it! Since making this video, I've actually become a fan of wearing it sitting back further on my head, and puffed out (sort of like you see me have it in the beginning before I pull it down). This style is certainly newer and a less traditional way to don a beret. You'll see a lot of adorable fashion bloggers rock berets in this way and I'm totally obsessed.
I love how Officially Quigley rocks hers with Mad Maven Style.
Another option is to pull it back or to the side for a more traditional look, like you see me do in the video. Really, it's up to you! A beret just screams jolly holiday 😉
Lastly are the adorable Mickey ears! Now the ones in the video are only available for purchase at the parks, but I've linked a super similar pair from Amazon. You can also look on Etsy for tons of cute options that are holiday themed!
The park ears tend to be a little pricier, but they also tend to be sturdier and better quality. That being said, you can get some crazy-unique ones by going through an Etsy seller. Check this one out for example. I just love the different textures and LIGHTS they used. You will be the cutest Disney Princess trotting around the Magic Kingdom in a pair of these.
Accessories really are a wonderful way to spice up the holidays. They're fun, fast, festive, and easy to incorporate into a number of hairstyles. And you don't have to be an expert hair stylist to use them! (my favorite part).
One thing I love about having Cashmere Hair Extensions is that they never allow the accessory (no matter how big or glitzy) to overpower my hair. My locks are always the star of the show and the accessory is well, just an accessory!
What other looks would you like to see me try out? Request them below in the comments section! I love getting creative with my styling videos and I'm always looking for new ideas.
Wishing you a magical holiday season and of course, fabulous hair!
xoxo Taylor
Want to see more content like this? Follow me on IG here.