« Back
4 Summer Hair Accessories You Need to Try
Summer means more time spent outdoors, on the go, and in the sun. No one wants to toil away inside styling their hair when there is so much fun to be had outside! I personally love to up my accessory game during the Summer months.
It saves me from spending too much time in a sweltering bathroom with my curling iron and still provides a chic look for a day at the beach or walking around town!
Even if you didn't put a lot of effort into your hair, a hair accesory makes it look like you did! I love a good lazy girl's hack, or perhaps a better term would be EFFICIENT 😉
It's a thoughtful touch and there are so many cute trends for them right now. Let's dive in!
The Euro Hair Scarf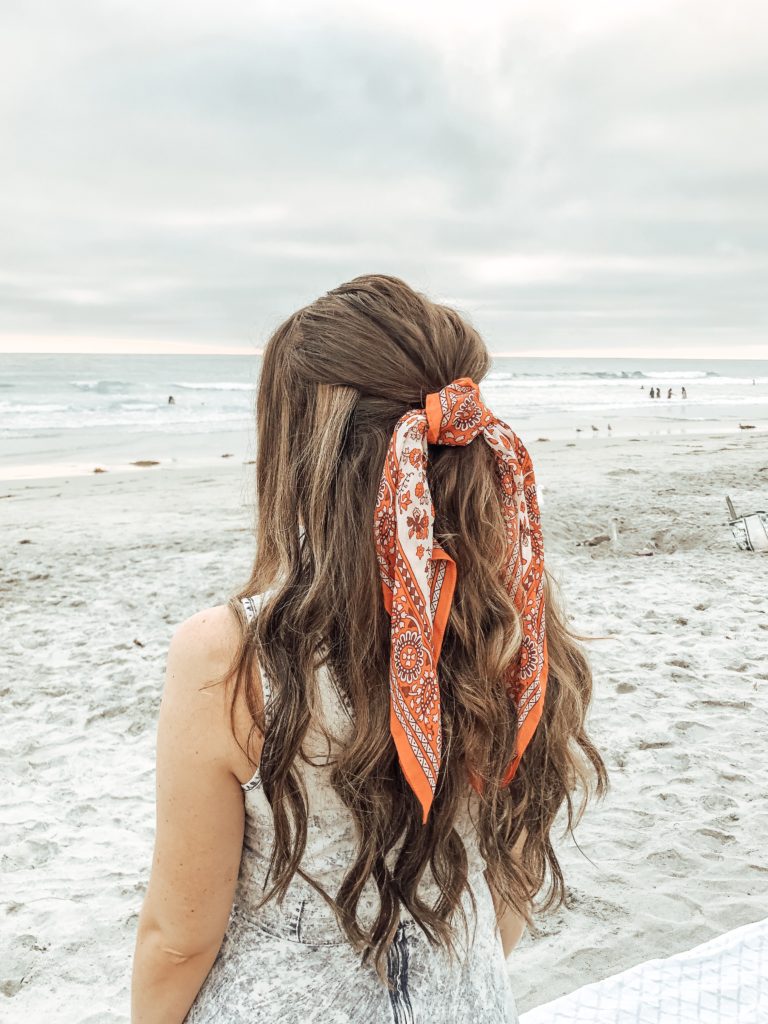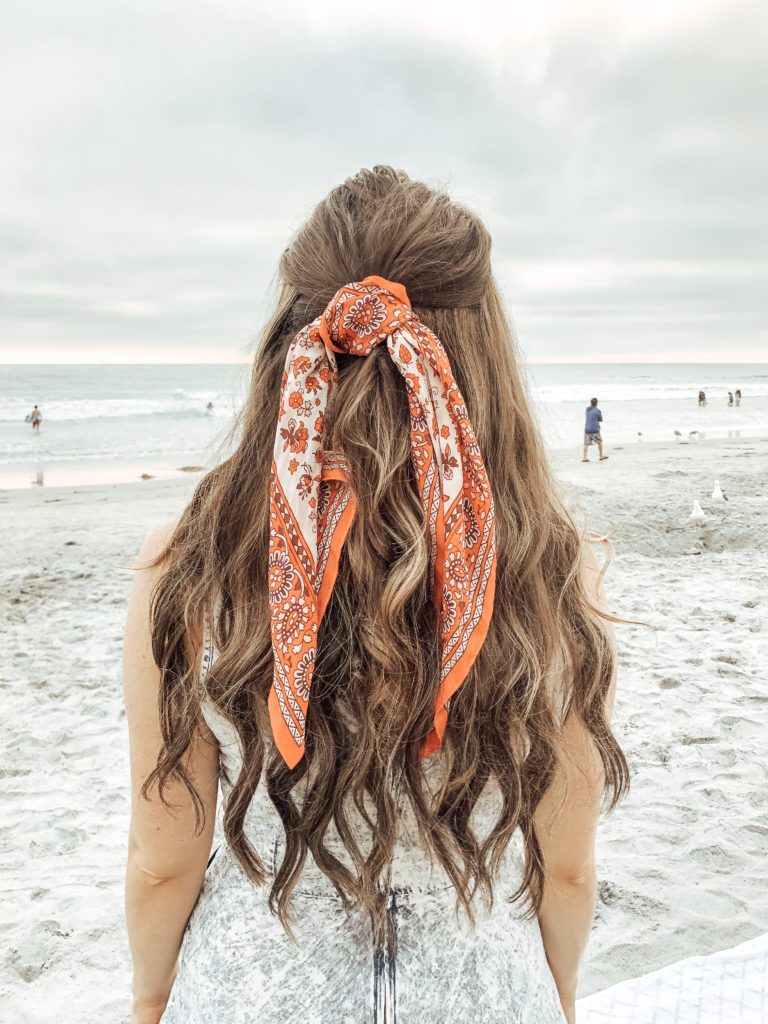 Timeless, reminiscent of a coastal European vacation or vineyard tour, and so so pretty! I seriously feel like I'm on the Amalfi coast with wine and cheese when I sport one of these hair scarves. Tying a knot with the scarf and keeping the tails long really makes for an eye-catching look. Throw your hair in a pony or top knot and add this baby for some extra va va voom. Or do a half up look for something sweeter like I did here. So chic and effortless!
P.S pro tip, second day curls are so good for anything outdoors. You don't look too done up and they fall SO nicely.
The 80's Scrunchie

The 80's called, and they said KEEP their scrunchie! They're so cute LOL.
Talk about youthful. A scrunchie is perfect for keeping hair out of your face when you're already rocking a bit of a dewy glow (thanks to highlighter or humidity, we'll never tell). They also are great for holding thicker hair or, in my case, fabulous Cashmere Hair extensions. I love how much height a scrunchie adds to any ponytail or half up style.
This one is a velvet yellow scrunchie, but I love ALL colors and materials. A pink silk scrunchie with pearls would be my next accessory pick! Can you imagine the cuteness? The options are endless in scrunchieland.
The Dollhouse Clip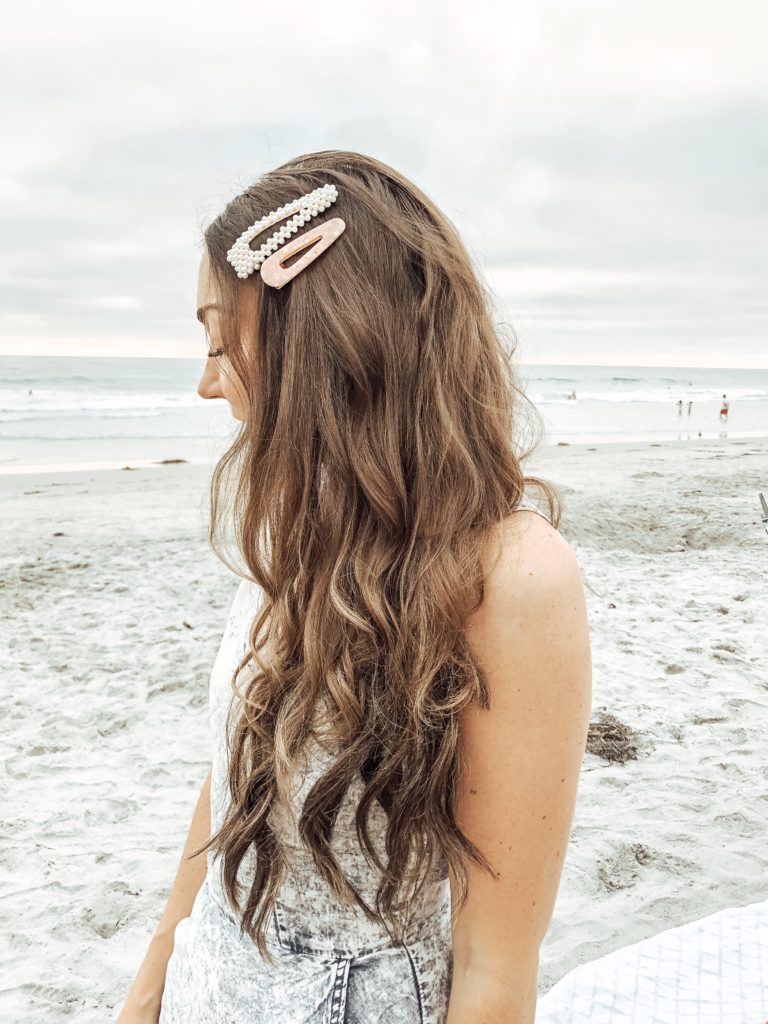 Adorable, youthful AF, and so fun to stack multiples – I AM FOR the oversized hair clip trend. It adds such a put together, feminine vibe, without any hassle. Mix and match materials and colors, do it BIG! (just like the clips).
The Animal Print
Cheetah-rawr. Spice up any hairstyle with an animal print hair scarf. It's an edgier take on the sweet Euro hair scarf. I love pairing leopard and denim; I think it's such a fun, rockery vibe.
It can really add a nice punch to the end of a simple braid like I did here. Leave the tails out or tie it in a bow.
Wall-a! 4 summer hair accessories for you to try yourself! I seriously think I need like an accessory cork board to store them all (pulls up Pinterest). I'm so in love with these trends.
Struggling to find any of the above? DM me on Instagram and I will do my best to share 🙂
Oh and of course, the greatest hair accessory of them all, is having GREAT hair to start with! ALL of these looks were accomplished with the 20" Bombshell Brunette Cashmere Hair extensions. They truly make a world of a difference.
Cheers to styling!
– xo Taylor
Want to read more like this? Head to TaylorToro.com
Follow Taylor on IG: @Taylor_Toro
Taylor Toro is a San Diego based blogger who shares more than just pretty pictures. She serves up heartfelt encouragement, travel tips, and wellness knowledge with a side of style. More likely than not, she's up in the air. When Taylor is home she relishes in slow mornings, matcha in hand, while dreaming up her next shoot location and snuggling her husband.